SS Dynamic Pass Box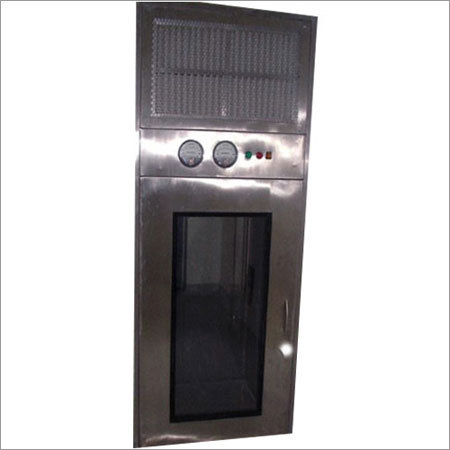 SS Dynamic Pass Box
Product Description
With the help of leading specialists we are able to manufacture, trader and supplier of SS Dynamic Pass Box from Maharashtra, India. The provided pass box is designed using best quality material as per the set market guidelines under the direction of our experts. These are available in numerous sizes and shapes to suit the different requirements of the customers. As per the specifications offered, the provided dynamic pass box can be customized. Along with this, these could be changed to meet with the meticulous needs of our customers.


Specifications:


Color : Silver
Surface Treatment : Electroplating
Dimension : 600 x 600 x 600 mm
Noise Control : 60-70 dB


Our SS Dynamic Pass Box is outfitted with an electromagnetic interlocking device for delivery and pickup of material to lessen the development of people all through clean rooms. The provided box is expected to introduce between two distinctive ordered areas and spaces for material to go through. This SS Dynamic Pass Box is utilized for moving the protest into the spotless room without emanation of residue particles, vapors, and microscopic organisms. The box is broadly utilized for resreach usages in healing centers, research facilities, and other facilities. This box is produced with high flawlessness by capable specialized specialists. In addition, our SS Dynamic Pass Box is composed of tempered steel that make it useful in limiting contamination and traffic passage into clean room. our box has two entryways are interlocked, which are shut from both the sides introduced with UV light. This box is utilized from expelling and exchanging waste from the labs, activity theaters and so forth and the loss than tossed to any neighboring source. From the two entryways, just a single can be opened at once and UV light turn off, demonstrating the opening of the entryway, while two entryways are not opened at the same time to keep the sullying and security of any antagonistic impact on the progressing production processes.


Prime Features:


High class quality and broad utilization
Superior and toughened glass
Simple establishment
After deals benefit
Customization in size and shape


Usage: Our SS Dynamic Pass Box has broad utilization in all confounded assembling process and is generally utilized as a part of healing centers, pharmaceutical industry, nourishment industry, electrical and mechanical businesses.


Directions to utilize: The waste ought be passed from any space to outside source utilizing hatch box wearing gloves and exceptional garments implied for this reason to keep the body and skin from any synthetic response emanating from squander.